Ten years ago, on February 27, 2005, I ran my first marathon! Here is the race report!
"Hail the Conquering Hero!!!
Heroes, actually. 650 of us, from LA, SF and DC, along with friends and relatives, coaches, support staff and 5350 other runners.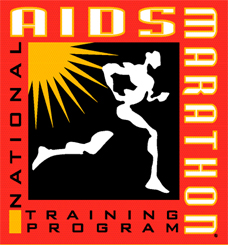 Almost $2,000,000 raised for the fight against AIDS. And a nice weekend in New Orleans, let us begin.
I will start by saying that Al Davis (the owner of the Oakland Raiders) was on my flight from Oakland to Dallas. I missed my chance to end him, but it appeared that God was getting on the job right quick.
The Dallas Fort Worth International Airport is cursed. Our connection was not at A36, it was at C33. The little tram that supposedly zips you with ease between terminals was broken. When we reached the gate, the plane was broken. Not, will be alright, but, we need to find you another plane to fly on.
We arrived in New Orleans an hour late and made our way to the hotel. Jon was already three and a half beers in when I found him in the bar [Ed note: and he drinks beer again. Carbon dating this. (Ed note: OMG, so long ago Jon still drank beer!)] . Don't ever get lost on Bourbon Street. Bourbon Street is like Las Vegas and Tijuana blended and compacted with the volume turned up. We abandoned our quest to find Irene's kitchen and returned to the hotel to feast upon Jumbo Shrimp (mmmmm, oxymorons for dinner).
Saturday morning is the day to pick up your race packet and see a little of the city, have breakfast at Cafe du Monde, and buy prezzies for the folks back home. Saturday is actually the day for Jon to wake up with a burning fever and Rachel to check in on him between various errands. We saw some of the French Quarter, which is nice off of Bourbon, but after two hours and lunch it was back to the hotel for TV and napping. But I needed to rest any way.
Jon didn't even make it to the pasta feed. We were in the lobby when he headed home, but that gave him the strength to cheer for people he didn't know for six and a half hours the next day, so it was a good thing.
So on the night before the race you compulsively check the weather. We went to bed thinking of 60% chance of thundershowers. We got up to 30% chance of light rain, which is infinitely better. We walked in the rain and the dark, all 650 of us, from the hotel to the Superdome with high spirits and the best banana I have ever eaten. We milled at the dome, used the bathroom, took pictures, milled some more and then made our way to the gathering area. The gathering area was entirely too quiet, so Kenyatta decided that deafening everyone would be a great way to prepare for the run. We got the party started, needless to say. Being hyped up probably drained precious energy from us, but it was just so damned exciting!!
We lined up in the absolute back of the pack and made our way slowly to the start line. There was a decently sized crowd of people there to see us off, including Jon, who taped it. There was a veritable rain of disposable ponchos and garbage bags off to the side as we jumped up to slap the flag over the start and hit our interval start buttons. It was an immensely exciting moment, the beginning of the end and it felt fabulous to have made it so far.
There was a man I saw several times over the course of the run. He was pushing another man in a cart. The man in the cart had cerebral palsy, a huge smile on his face and a runner number. His friend pushed him the whole way in half an hour less time than it took me to finish. I had to stop looking at them because I didn't want to start crying at the beginning of the run, but it was a beautiful thing. (Ed note: I had forgotten about these men. Happy cry face!)
The first five miles were heavenly. We didn't stick together as we had planned, but we were within sight of each other for a long time. The weather was perfect, with temperature in the mid sixties, intermittent light rain and cloud cover. This reads as cool, light humidity and no sun burns. We didn't go out too fast and kept ourselves between 14:00 and 15:00 per miles, which was our goal.
At 4.5 miles we reached our first cheering stop. I had thought there would be a couple dozen people cheering for us. It was actually a couple hundred AIDS marathon supports lining both sides of the road and cheering madly! It was great. We got this at 9.5, 16.5 and 22.5. It was hard to walk through it on a walk break because you wanted deliver some action! While it wasn't so important at 4.5 miles, 22.5 miles was vital.
We got stuck on an early bathroom break at 6.5 miles that really slowed us down (Ed. note: Such a noob mistake, never use the early bathrooms!). Kenyatta and Paul passed us and were out of sight by the time we got moving again. We caught them at mile 11. Then Paul went off to finish his Half Marathon in style and we were on our own, me, Kate and Emily.
It was really amazing to see the finishers when we hit halfway. They looked numb with pain, but they were all going strong. Those people running twice as fast as we were, those Boston qualifiers. The first AIDS marathoner we passed was Jonathan from SF (go home team!!). He looked to be on pace for a 3:50 finish. Damn!! We spent almost the rest of the race cheering the teammates we passed in the road.
Here's a hint for running in New Orleans, Audobon Park sucks. It seems endless, and just when you think you're done, you have to turn around and do it again. We had our miles at sub 14:00 until mile 21, which was surprising to me, because I was hurting by then. The roads in New Orleans suck and my left knee was hurting from running on a sloped road.
As we came out of the park, Kate said that she needed to see Linda. Linda is our Program Rep. She is about five feet tall, shaped like a football and has a scratchy voice. She was at the cheering station at 22.5 miles, and it was great to see her. At that point you can't feel the rush of energy when you eat your energy gel and every step gets harder to take, so every little bit of encouragement helps. Every stranger who says "Alright Rachel!" because you remembered to write your name on your jersey is another boost.
At 22.5 miles I told Jon that this was the hardest thing I had ever done. It was the truth. Here's the good thing about 22.5 miles. You start to see the finish. The Garden District is lovely and it's that much closer to the finish. The coffee shop that still has a line out front three hours after the first time you passed it, the water stop with the men in red dresses ("It's just like home" is what Emily said the first time through), your coach running a few hundred yards with you and saying "That overpass is 25 miles." These things are gifts.
The cops in New Orleans are very nice, even the ones sitting in their cars and smoking. Some of them turned up their radios (I completely understand the appeal of the Rock and Roll Marathons now) and they were all polite. Towards the end, after the last turn into Downtown, even the cops are saying "Alright, you're almost there!"
Fortuitously, Emily's and my energy levels were on opposite levels all day, so when I was down she pulled me along and vice versa. She definitely had more energy at the end but she didn't leave me (yeay!). I couldn't run for most of the last mile, but as we turned the corner into the Superdome all the pain and fatigue fell away and we ran like bunnies to the finish. I raised my arms in triumph, crossed the pad and then tried not to collapse.
My time was 6:29:46, so we cut almost forty minutes off of our training run time. But what's important is that we finished. Everyone gathered by the finish line (after a lot of limping and some eating) to wait for Kenyatta and we cheered him in. As we walked around the French Quarter that night, the marathoners were easy to spot by their gaits. We had a good dinner with horrible service and beignets and coffee for dessert. It was hard to believe that we were done. But it was also wonderful to close the book on a satisfying chapter. It is something that I will be able to draw on in difficult time to remind myself that I can do anything.
This has been a wonderful journey and I'm very proud of myself. I am also very thankful to everyone who gave me their emotional support and to those who donated for helping me to help others. I'll leave you with the words of a Team in Training coach from 24.5 miles.
"Are you suffering?"
"Yeah."
"Today, there are fewer people in the world suffering because of you."
Thank you all so very much."