Welcome to "The Baysics," an occasional series on places in the San Francisco Bay Area that are kind of maybe related to triathlon.
Today's feature is… Lake Anza!
Located in Tilden Regional Park, Lake Anza is a small, freshwater lake with a lovely little beach and roped off swim area.
There is a small fee per person to enter the beach area, but no fee when lifeguards are not present. This makes it a nice option for open water practice either before 9 AM in the summer or anytime during the cooler months. Because it is a lake it's important to be up on water quality, especially after any rain. See the link above for up to date water quality, fee, facility, and hour information.
My Review:
I am filing Lake Anza under "Why have I never been here before?"  I went there last Sunday for the first time and was very pleasantly surprised. There was ample parking and a snack shack (I get hungry). The weather was in the mid to low 70s, the sun was pleasantly warm without being too hot.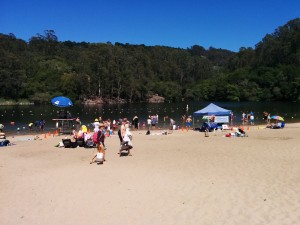 The water was wonderful! A bit cool, which was perfect for a no wetsuit swim in the "lap area."  The roped area is ~60 meters long (thanks mapmyfitness!) There were free life jackets to borrow and the guards were really on their game. When a couple of kids moved past the drop off rope into the deeper swim area, the life guards got them back out of the way of the three or four of us actually doing laps.
It can be hard to arrange open water swim time with training partners. Because this is a guarded beach I felt fine going out without a buddy. It's small and you are never swimming that far from shore. Even without guards I would feel very confident swimming here, especially in a wetsuit. There is relatively easy access to both roads and trails making this a good location for swim brick workouts as well.
With a couple of adults this could be a really great to place to get some open water practice in AND have family beach time.
Super cool, would swim again!
-fh