..Rate Monitor
Sunday was my test race to set my goal time for the Beat the Blerch Half Marathon on November 14. I went out for the LMJS Fourth Sunday run and did the 10k or two loops around Lake Merritt.
10k – 1:04:45 – PR!!
I learned-
-Base goal race times on current fitness, not last spring's fitness or a bucket list goal time.
I wanted to race 10k in an hour. I was watching the clock during lap one of the lake, trying to keep in a time range. I passed two women in the first mile – they were probably running half the distance I was and who gives a shit if you pass people in the first mile of a race that's more than a mile long?
I was so worried about not being on pace for that goal that I went out too fast and then I got tense worrying about being too slow and then I got nervous about not feeling good on the second lap of the lake. I was a mess dudes, a mess.
-Yes, I can run far.
I seem to learn this one and then forget it over and over. I am still afraid in my deepest heart that I just can't finish. Not fast or anything, I am worried that I literally will not be able to finish the distance. It's rooted in the fact that my second race ever was a frickin' marathon and I was genuinely afraid of not finishing. Ten years on from that and a lot of miles later I need to learn that I'm not gonna crack on a 6.2 miler. I only managed to relax and let the race come to me after 4 miles.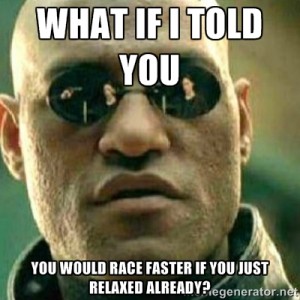 -Running by effort is way more effective than running by pace.
Lap one – my heart rate was all over the map. Lap two, when I gave up on hitting an hour and focused solely on keeping my heart rate in zone 4 – super even and consistent. The other reason my heart rate wasn't consistent was that…
-I need to warm up.
I have two warm up levels. One comes after about fifteen minutes of warm up, the other after forty five minutes. My heart rate isn't "actual" until I've been going for a while and the engine is nice and warm.  A few factors were at play on Sunday – mainly that the Peanut was racing! I was distracted and didn't set myself up to have a proper warm up. I got in a bit of a jog but nothing close to what has been successful for me in the past.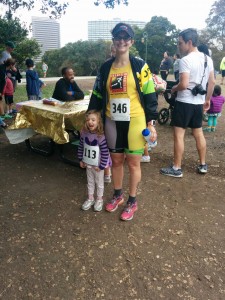 -I'm going to be fine for my A race…
This race wasn't super perfect, no biggie. It wasn't an A race, I didn't taper at all (speed intervals on Friday) I didn't fuel aggressively, and I haven't been training specifically for this distance.
-…If I stick to the plan
The race time predictors I am looking at are telling me that – based on this race – I should be able to run my half marathon in 2:20 to 2:24.  The slower end of the range would be a 13 minute PR. I will be smart! I will run based on my current fitness level, I will run based on level of effort and not speed. I will be patient but not overly conservative.
and I'll be perfectly happy if I come in at 2:19 😛
-fh