It was full to bursting! Groceries, library, workout, gardening, marathon volunteering, workout, make quiche with a three year old, work out more, put three year old to bed, collapse.
I prefer the busy weekends. I hate getting to Sunday night and feeling like nothing happened. I don't want to be well rested, which is what I tell myself I will be if I do as little as possible. I want to feel like I lived my weekend. Most of us spend most of the week working. If we do that, when are we living the lives we want? If you do nothing, or close to, on the weekend, when are you actually _doing_ what you want to do?
I was taking Sundays off in the last phase of my training. This phase is over! Now weekends are for beating my ass. The fantastic news is that all this training is totally working. I am not just feeling stronger and faster, I AM stronger and faster.
This weekend's case in point: the swim. I couldn't get to masters' because of the Oakland Marathon. I manned a water stop for three hours with the Oakland Triathlon Club. Super fun by the way. Even if you have no intention of ever participating in an athletic activity, I encourage you to volunteer. You get to see a lot of the race and a very tangible feeling of helping the racers. Races don't happen without volunteers. I always thank them when I race and I try to volunteer a couple of times a year.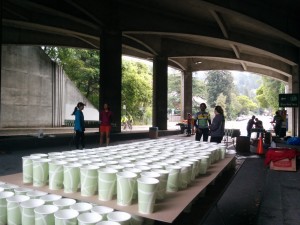 (As long as you don't get sued: http://www.somerandomthursday.com/liebesman-v-competitor-group-the-reply/)
I went swimming Sunday, midday at Mills College. Forgot my suit the first time I drove there but I got it right eventually and jumped in. Trefethen Aquatic Center has a very nice pool. The lap section is consistently eight feet deep. It has low chlorination, is very clean, 25 yards (I think), and un-crowded. I had to share my lane for the warm up but not for my main set.
A couple of months ago I was swimming at masters' and I had to do 100 yards on an interval, e.g. I had to leave the wall after a set period of time. The 100 yards took me about 2:30 and I left every 3 minutes. So each 100 I took 30 seconds of rest. That's a lot of rest. Those 2:30 100s were tough for me, I was working very hard to make that interval. I think I did about three of them before I was worn out.
On Sunday I did 4 * 100 on 2:25 with 10 seconds rest. Twice. I swam 100 yards in 2:15 (that's 15 seconds faster than before) and then rested 10 seconds (20 seconds less rest) and then did another 100. Instead of three intervals of 100 yards, I did eight. I could not only go faster, I went faster with less effort, on significantly less recovery time. Each of those eight 100 yard segments was the same time. Every time I came up at the end it had been 2:15, from the first to the last. I'm a sucker for consistency, I could not have been more happy with my results.
Between the two sets of 4 * 100 I did 200 yards of backstroke. In November, when I started masters', I couldn't go in a straight line during backstroke to save my life. On Sunday, with something to spot, I did just fine and was able to relax and swim effectively on my back.
The cherry on top of the already fulfilling workout (did I mention I swam almost a half-iron distance worth of yards in 55 minutes? My longest swim workout since I got back in the pool after a three year break?) was that I did two lengths of butterfly, for FUN. Easy butterfly, just cuz I felt like it, as a cool down.
I have lost my ever loving mind or maybe just shed my non-swimmer self just about completely.
-fh