I wrote my race plan. You remember, the huge, stressed out ramble from last week?
Did I plan the race, race the plan? Read on!
TL;DR  – Total Time: 3:37:35 (Goal – my terrible math told me this was 3:19, but it was actually 3:27-3:36 so whoa, I hit my goal time!)
T-Zero
I had a crap night of sleep. Not outside of the realm of normal for racing. I was awake from 3 AM, right out of bed with the alarm at 4AM. As planned, breakfast was a Clif Bar and a banana and water. Sometimes the banana is hard to get down but on this morning it was delicious!
My ride showed up right on time and we got an amazing parking space about a block from transition! Then I realized I forgot my flat kit. That was an "Oh well!" If I flatted, I flatted and I'd go race Mermaid in a month.
I got a great transition spot on one of the Oakland Tri Club Team racks- right on the end so my run and bike gear wouldn't be under any one's feet. Not having my glasses accidentally smashed is a goal every race. We had a great spot for our team, right in front of the swim in so we had a small advantage over other racers. A small thing with this race is that all transition spots are not created equal. It's not always possible due to space constraints but it's something to keep in mind.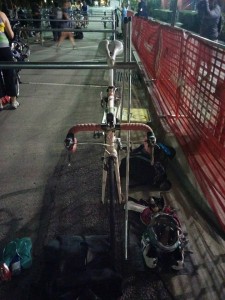 Transition set up went well. Got settled in and set up. Chatted with the team. Cooled out with Darcy's tunes (thanks dude!) and used the bathroom a lot. This being my home town race, and given that I was wearing an Oakland Tri Club kit for the first time, every time I walked through transition I would answer any questions I heard and generally chat and be super positive.  I do this at every race because it helps my nerves and it seems like I'm the only one who ever reads the athlete guide. Seriously, people are out there on race morning and they don't know where the race starts, where the bike out is, how many laps of the lake we are running, what time the awards start. So every time I hear a question or even worse, someone telling someone the wrong thing, I jump on it. It's officious, pedantic, and presumptuous, and 90% of the time the people in question thank me for it.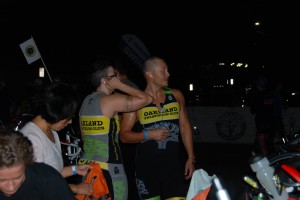 There was one wrinkle on race morning that I didn't think through and I think it bit me in the ass a bit, I mean, it was a valuable learning experience!
I had planned, as usual, to have a gel 15 minutes before starting the race. Except, the swim start was a long walk from transition. For a 7:06 start I was going to leave transition at 6:15. I decided to take the gel early as I had no extra water bottle to take to the swim start. This was an ok plan but it wasn't great. The gel I took had caffeine. A bit of caffeine right at the start would be ok, but an hour before go time was enough time for the diuretic effects to kick in without the mitigation of high effort. I ended up visiting the toilet three times during the race. I made the visits as quick as possible but the combination of the discomfort of needing to use the toilet, feeling a bit of an idiot for "screwing up" my nutrition, and mentally cursing the wasted time of the visits themselves, did my race no favors.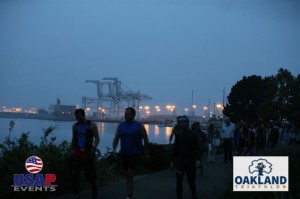 I walked out of Transition and to the swim exit. I placed my T1 shoes – it was quite a hike from the water to the bike – and walked to the swim start with an OTC team mate. We made our way to the last porta potty line of the pre-race and I got in and out with about ten minutes to go before my wave start.
Swim – 44:13 – 2:42/100 (Goal: 38 – 40 minutes, not too shabby)
I wasn't super confident in any type of speed for the swim but I was satisfied with my endurance. The entry was lovely. There was a dock right on the water so we could sit down and then slip right in. The temperature of the water was in the sixties and just perfect for swimming. I did a bit of a warm up, including some butterfly because apparently that is now "my thing," and lined up behind what I thought was my wave.
The wave started and no one in front of me was moving. Whoops! That was the next wave. I caught on quickly and swam through them. One of the bigger themes of the swim was "Am I just shit at navigation?" Three or four times I was far away from where it looked like the majority of people were swimming. I think it was a combo of not being able to swim in a straight line to save my life, swimming in a tidal current for the first time, and – after checking the course map after race – realizing that I was swimming in a straight line and all those people weren't (remember how nobody else studied the course before the race?).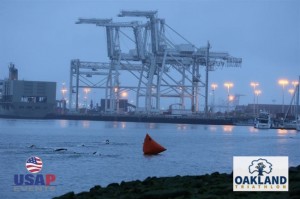 We were swimming against the flood, so it was slow going. It was also very physical, with other swimmers cutting right in front of me, one very proper punch the back of my head when a swimmer from a later wave came by me very, very close, and the guy right in front of me being fast enough to stay in front of me but not skilled enough to sight so he stopped and did breast stroke twice a minute. Screw that guy! Learn to swim open water dude!!
Given my late start I was a bit behind but I passed a fairly large groups of people about a third of the way through. Which I imagine is when the adrenaline wears off and everyone really started to settle in to the rhythm. Which I also did, I just didn't slow down.
I swam my swim, didn't think about much besides sighting and swimming. I wasn't really on my game with staying streamlined and keeping my stroke effective. I just sort of did it. By the end I was really, really ready to be done. We were getting out on an inflatable dock and they had volunteers there to pull us out of the water. I swam up and my puller was my coach! I thought I was going to get a second to collect myself but nope! She just grabbed my arm and yanked me bodily out of the water. Whoa!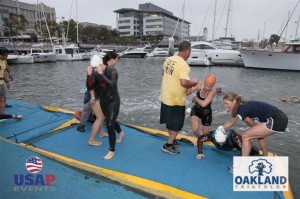 T1 – 9:30 (Goal 8:00 – meh)
Umm, so I guess I'm in transition now! Had a lovely cramp in my left calf and walked it out up the ramp the shoes as I pulled the top of my wet suit off. My shoes went on quickly and I jogged on. I had to pee, so bad! This was not normal for me. I ran into a porta potty on the course and spent precious time using it and then struggling to get my wet suit back over my hips so I could run. Next time if I think I'll need to pee I'll just pull it off for a quicker in and out.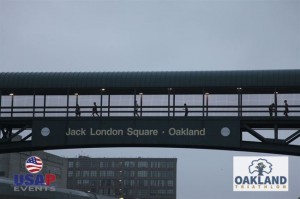 Then it was up and over the pedestrian bridge for the first time. It wasn't super hard and I took it at a walk. My heart rate was still sky high from the swim and just would not go down. As I crossed 2nd Street to get to transition there were Mr. Fyre and Little Miss!! I popped over to give kisses (no hugs from super dripping wet mum) and the little one was obviously like  "Whoa, who are you?" Apparently the open water algae beards were quite intense for this race.
I had scouted my rack well and had no trouble running directly to my bike. I got my suit all the way off, got my shoes and helmet on, grabbed my gel flask and ran on out.
Bike – 1:32:55 for 24 miles 15.5 mph (Goal 1:33 – 1:40 Whoa, under! The course was one mile short but I'll take it!)
I was super happy to get on the bike. It had started raining very lightly about an hour before the race start and kept up until just about the end of my bike. Just enough rain to raise the oil on the roads. There was some carnage out there. The traffic control was for the most part excellent. The race was not cheap but given the number of police on the course, I knew exactly where my money was going and I was happy with it. At all the corners the volunteers were reminding us to slow down and watch the wet roads. A couple of intersections even had police on loudspeakers calling out to slow down. The race went through Downtown – lots of metal man hole covers, West Oakland – crap roads, pot holes, old railroad tracks, and the Port – roads mainly used by big rigs, lots of oil.
I knew I needed to get my nutrition started and wash the salt out of my mouth but my heart was still racing and I didn't feel very centered. I started to see some cyclists walking back with either bodies or bikes that couldn't finish. Every time I passed someone changing a flat I sent up a tiny prayer to the gods of rubber and racing, then tried to put it out of my mind and keep my head in the game.
Ride to run strong.
My goal was to average 16MPH. I focused on keeping my effort right in the place of working, but not working hard. I spun up the three hills, none of which was any particular challenge, and stayed in the drops on the second half of each loop. The first half was all turns and crap road, the second half was well paved and had long straight sections and some headwind. I got my nutrition going and was spot on for calories and fluids. The pockets on my team kit weren't great for my flask, so I pulled a Faris and just stuck it in the back of my shorts. It kept the gel warm and easily accessible.
Pro Tip: Warm gel flows faster and can be easier to get out of a flask or sachet and to swallow.
Then I needed to pee again. Goddamnit! By now I was almost done with lap one and my team mate Angela was racing near me. We chatted back and forth. She had a 70.3 Triathlon coming up in 14 days days so she was taking it easy. She would gap me on the flats, I would take all that gap and more on the downhills and the technical sections.
We finished the first loop and there was my family again! Have I mentioned how super good my husbeast is at spectating? He is really, really good at it. I gave a wave as the Little Miss yelled out "Mommy!!" There was no traffic as Angela and I made the turn around for loop two, past the very enthusiastic water stop.
Volunteers – Wow. A glut of volunteers. Intersections, water stops, swim exit. Happy smiling people giving lots of great energy! However, hearing from racers, volunteers, and spectators there are areas for improvement (which I will be sending to the race director). It's only the second year of this race and it seems well on it's way to being a great Oakland tradition. Getting information out to volunteers can be a challenge but it's one that needs to be undertaken to provide a safe race. The biggest problems I heard about were; Traffic control on the last block before transition – vehicles were crossing and entering the "closed" road at one intersection. Not good. There was a cop there, they were not super engaged, Volunteer knowledge of SAG procedures – the volunteers were not given emergency contact information or procedures.  Racers who crashed out were asking how to get back to transition and there were no answers for them. This is quite a large lapse. A volunteer told me she saw some runners almost slip and fall and had no idea what to do if one of them had required assistance. It should be easily solved with an info sheet handed out to all volunteers with basic directions, traffic routing instructions, important times and emergency procedures.
Back to the race…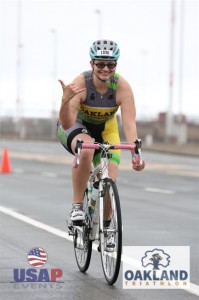 Loop two started with a jackass breaking the rules and very nearly taking me down. A man passed me, correctly, on the left, then started bearing right, correctly. The guy behind him (and his little draft pack, not correct) obviously thought the first guy was going to slow and decided to shoot around him to the right, not correct. The first guy, not seeing the three racers coming up behind on the right, was bearing steadily to the right of the lane. The right hand passer starts yelling and the first guy, Mister on your right, his two drafting buddies, myself, and Angela were all nearly taken out because Mister pass on the right apparently doesn't need to follow the rules.
Dickhead.  I saw some other fairly blatant drafting but no other big transgressions. Everyone seemed to be playing it safe in the wet conditions.
I had been eyeing the random but unlocked porta potties along the bike route and planned to make a pit stop. I stopped, opened the door and it was clean!! (or cleanish, clean for a porta potty) and it had paper! I dropped trou and heard the clunk as my gel flask took a dive. It was almost empty so there was no big loss. As I left another athlete popped right in after me. I'm a trailblazer for my people!
I stayed right on my level of effort and speed as I finished the last couple of miles. It takes some resistance at the end of the bike to stay at an even level of effort. I get that "coming home to the barn" feeling as I finish the leg and I worked hard to remind myself that I wasn't finishing the day. I got off the bike feeling like I had hit my plan right on (minus the potty break, but when you gotta go, you gotta go).
T2 – 1:31 (Goal 2:00 – awwww yeah!)
I'm proud of my transitions. I have been working on them and will continue to work on them. It's way easier to put time into somebody while you're changing shoes than when you're trying to run faster than they are.
For perspective, the women who won the race only went :07 faster than I did in T2. The former Ironman Pro who won my age group did it in 1:03, and the fastest T2 men or women appears to have been :51. That's what I'm gunning for.
Got in, found my rack, changed my shoes, grabbed my belt and hat, and ran out. Done!
Run – 1:09:26 for 6.3 miles (course was a bit long) (Goal ~1:06)
The run was the leg I was least happy with when I did it and with which I am more pleased as time goes on. I had one bathroom stop and we had to run up and over the pedestrian bridge again. Given those two factors, my actual running speed was probably very close to my goal speed.
The run never felt good. I felt doable, it felt endurable, but never good. The usual dead leg feeling cleared out after about a half mile and I tried to settle in. I couldn't find a place that was easy and at the pace I wanted to run. I'm glad that race pace won that fight.
Run to finish strong.
I stuck right on my nutrition plan, walking the aid stations so I wouldn't choke on water, taking my gel before each aid station so I could chase it with my drink. The energy was mostly there. I was getting tired but that was the time to get tired. Angela, who had finished the bike before me, ran by (as did about four other people) wondering how I had gotten ahead of her. My answer "I transition like a motherfucker." One guy told me he stopped to dry off between his toes. It was raining! What's the damn point?
Anyways, I'm trucking along and I realize that the upcoming course marshal is my dad! Cool surprise! I gave him a big hug and told him I'd see him in about an hour. A half mile later I ran past my co-worker Brenda and several other well placed and enthusiastic volunteers. Then it was time to run around the lake.
Pros – knowing exactly how long it is
Cons – well…..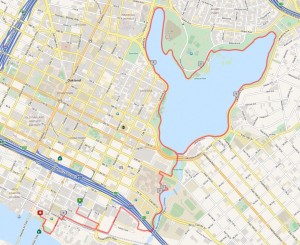 My constant check in with myself was "Can you do this for another forty minutes? Can you do this for another half an hour?" I had the rhythm, just like I did at Monte Rio. My training runs had been feeling amazing. I wanted that feeling of ease and flow to show up and carry me through the day. Instead, gritting my teeth and staying on my pace got me through the day. Whatever we need to do, right? There was a runner in front of me in the same age group. Over the first two miles I slowly but surely reeled her in! Then I had to use the bathroom. I spent way too much time asking if it was open and waiting for someone to check rather than just running to the damn door (home field advantage: knowing where the flush bathrooms were on course because there were no porta potties). She passed me while I was in there and so I set about getting her back.
I was making small, but steady inroads on her lead until about mile four and half. Then I started to struggle a bit more. I was getting tired, it didn't feel like a lack of fuel, just straight muscle fatigue. She started to pull away and I didn't want to blow up chasing her down. The bad part of knowing we had the pedestrian bridge to do again is that I was scared of it. I was worried that it was going to hurt like hell. I finished the lake, passed by Brenda again, passed my dad again, passed a racer (always a nice little boost at the end) and got ready for the stairs.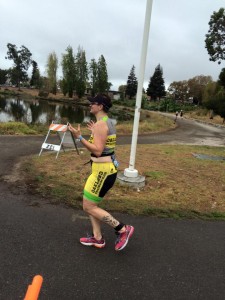 They weren't that bad! After using the hamstrings and glutes to run for an hour (because I'm finally using them to run, yay physical therapy!) my quads were more than happy to get in the game. I didn't run the bridge itself, I was tired in my brain. There were people with finish medals on the stairs and I wished the volunteers had known to direct them to the other crossing or two blocks in either direction to cross with stairs, a note for next year.
I got down the stairs and knew I had less than 400 yards to go, that's less than a lap of the track. I managed to get running again and I could smell the barn for real this time.
Pro Tip: I use a mapping website to track backwards from the finish line so I know when to kick. Nothing worse than kicking early and not having the strength to carry it though, or kicking too late and not getting max benefit. I check on 200, 400, and 800 meters from the finish.
About 200 yards from the finish I turned it up to eleven. No more worry about "Will I be able to finish" Will I have to walk?" I passed one guy immediately and the other with about 85 yards to go. I ran all the way through the finish  and threw up my hands. Strangely, all I could see as I was running in was Oakland Tri Club's president, Chris, standing right in the middle of the finish exit with sort of a puzzled look on his face. It was weird, but whatever!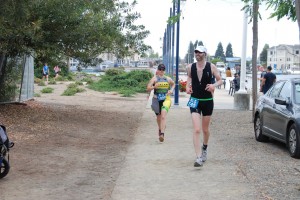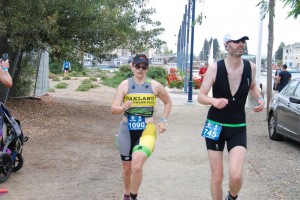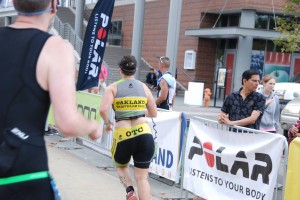 T3! Total Time: 3:37:35 (Goal – my terrible math told me this was 3:19, but it was actually 3:27-3:36 so whoa, I hit my goal time!)
Done! I bent over, heaving, while the volunteers tried to put a medal on me and give me water. As I exited the finish area Chris took my towel and wiped the bay beard off my face. Lovely!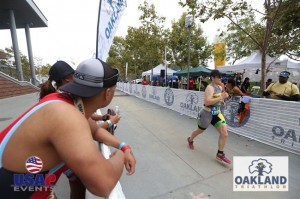 The Fyre Family wasn't there. I fretted! But then I realized that if the Little Miss was having a rough time, we were so close to home, Mr. Fyre probably just took her home (which was indeed the case). I hung out with the club, cheered people, nearly vomited, didn't vomit! Drank German non-alcoholic beer (actually pretty good), and generally had a rare old time.
My age group was won by Kate Major!! No shame in that game. My homie KJ won her age group for the second race in a row. Beast Mode!! OTC collected our palmares and celebrated everyone who came out to race, volunteer, and cheer. Our last team mate successfully finished and we met her at the line. There was great rejoicing.
Conclusion: Damn if the post race let down hasn't been hellish. No direction, no motivation, no idea what to do next. I've got a half marathon coming in November, so I need to build for that. Then I think it will be on to the search for a coach to help me answer the question, to 140.6 or not to 140.6?
-fh